About Us
A Warm Welcome To Thurnham Church Of England Infant School!
Thurnham is a happy place to learn and to work, and our children and staff are friendly people who work hard to make sure learning is fun and purposeful. This is a place of learning for all of us, not just children, and we're all learning new skills and knowledge every day. We have wonderful parents and governors who always support us in any way they can.
We are developing as an OPAL school so we are trying to ensure all children have the opportunities to explore and develop all the 16 areas of play at lunchtime.
We give our children a broad, balanced curriculum and access to lots after-school clubs.
There are exciting projects and challenges that everyone can join in.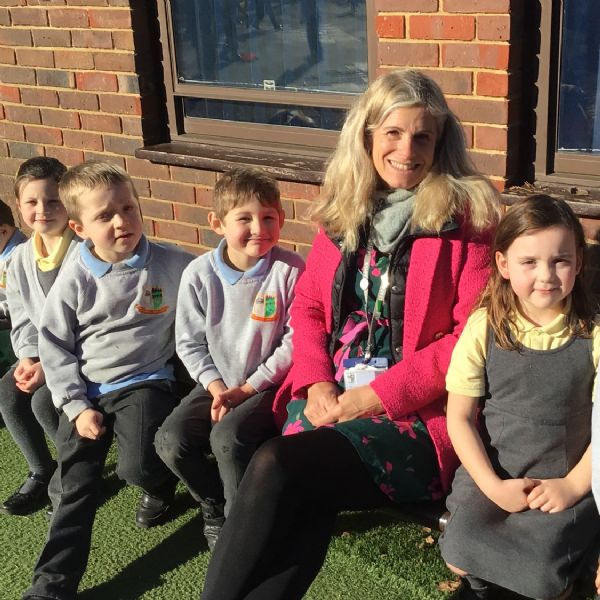 Mrs E Pateman
Interim Headteacher
Our children achieve very well whatever their abilities, and it's important to us that everyone should have a chance to shine and achieve their personal best. Ofsted found our school to be outstanding, and recognised that we were all committed to improving our school all the time.
We do our best to make our school a nurturing environment where all are included, supported and valued, and their efforts and achievements are celebrated. We all think it's a very, very special place, and we hope you will feel this too when you come and visit.
Thank you for looking at our website. I hope it will give you a taste of what our school is like.
This school is outstanding. It is a highly inclusive school where every individual is valued and pupils of all abilities flourish in this warm, welcoming and vibrant environment.

(Ofsted 2009)
Please have a look around the website either by using the clickable icons or the menus near the top of this page. We hope you can sense the warm, caring and friendly nature of our school from what you see on this website.
You can click here for a letter of praise for the school concerning its Phonics outcomes from the Government Minister for School Standards and for a letter of congratulation on the school's outcomes from the Director of Education at Kent County Council, as well as newsletters to keep you up to date.
Please click here for the full recent Diocese inspection report looking at the school's Christian aspects and our wider educational standards. We were rated as outstanding in all areas. Also available are a letter of congratulation from the Diocese and a certificate of outstanding status.