Term 5 2023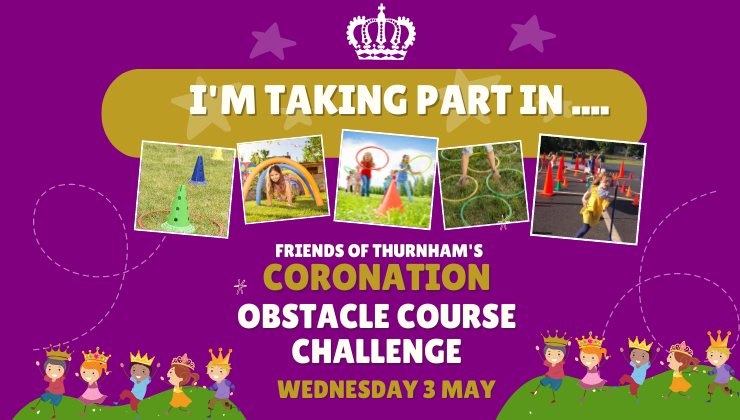 Week 3 Term 5
An action-packed week celebrating and learning about the Coronation.
A little reminder of what we have planned for the rest of the week:
During PE - the

obstacle course (with optional sponsorship) . On completion every child will be given a coronation medal by Mr D. (Our PE coach).
Medals will be kept in school until Friday.
Thursday 4th May
Coronation photo

to be taken on the throne - throughout the day. The children will be wearing the crown they made today.
An opportunity to have a picture taken, by a professional photographer, on a custom-made wooden throne dressed in regal costume similar to what King Charles may wear on the day.
These will be available to view in a class gallery (and used on our school website). These can then be purchased via a secure website. If you would rather your child's photo is NOT displayed either on the website or for other class members to see then please let the office know.
Friday 5th May
To end the celebrations we would love all of the children to dress in either red, white & blue, or as a king/queen/prince/princess for the day.
An all-school picnic will also take place in the playground from 1.30 (food supplied by FOT) where we will sing the National Anthem & the Coronation song for King Charles and wave our flags.
Coronation/Royal Memorabilia
We will be making a display in the library for the children to look at of old coronation artefacts - or items linked to the royal family. You are more than welcome to send something in to add to this collection- if you would like to do so. Please can you name it clearly and only if you do not mind it being looked at and shared carefully by lots of hands. (Many thanks)
Sports Day - Wednesday 28th June
This year we will have a different format.
The children will be taking part in activities all day but it will be the afternoon as usual for spectators. The second day if it is wet will be Wednesday 5th July if wet on the first day.
As the children will be on the field for most of the day we would like to set up gazebos for each class - so they have a base to sit under and some shade. If you have one you could lend us please could you let the office know (even better if you would be able to come and put it up too!)
Class and whole school photo - Tuesday 9th May
Just a reminder that next Tuesday is photo day. We will have a photographer in taking class group photos and a new whole school photograph for the entrance hall. You will be able to purchase these if you wish- details will follow.
Trips
We will be sending the trip letters home very soon.
On the bottom of the letter you will see there is an option to begin paying in £5 instalments to break down the cost.
We hope you manage to have some memorable Coronation celebrations next weekend and enjoy the additional bank holiday.
Those who have popped into school this afternoon may have noticed we have a special visitor in the entrance hall watching over our proceedings!
Mrs Pateman and all the staff
Week 1 Term 5
Dear parents and carers,
Here we are with the week one newsletter. Welcome to the Summer Terms !
Many thanks for all the lovely messages and conversations we have had celebrating our Ofsted report - they are much appreciated.
Exciting news!!!!
Many of you may have noticed that Mrs Brenchley is expecting her second child- due this September. We are all delighted for her. She has timed this perfectly and will be with us until the end of the school year.
Music Samba: Message from Miss Saunders:
Dear Parents and Carers,
On Tuesday the 16th May 2023 we are very lucky to be having a visit from a drummer from The Primary Workshops for Schools Company. They will be coming in to allow the pupils to have an interactive Samba drumming session.
There will be a voluntary contribution of £2 per child to cover this experience and I have attached a link to book this and get the payment information

SchoolCloud - Thurnham Church of England Infant School
Please make your payment to the school's revenue account at NatWest.
Sort Code: 60-60-08 Account number: 83297340
Please reference with your child's name and class.
Many thanks
Thurnham teaching staff.
Year 1 Phonics Screener talk: Friday 28th April 2023
The Year 1 team will be explaining the process of the phonics screener to you on Friday 28th April @ 2:30pm in the school hall. The PowerPoint will go on the website for all those unable to attend.
Please book your seat on the parent booking system for this.
SchoolCloud - Thurnham Church of England Infant School
GOLF Fundraising event: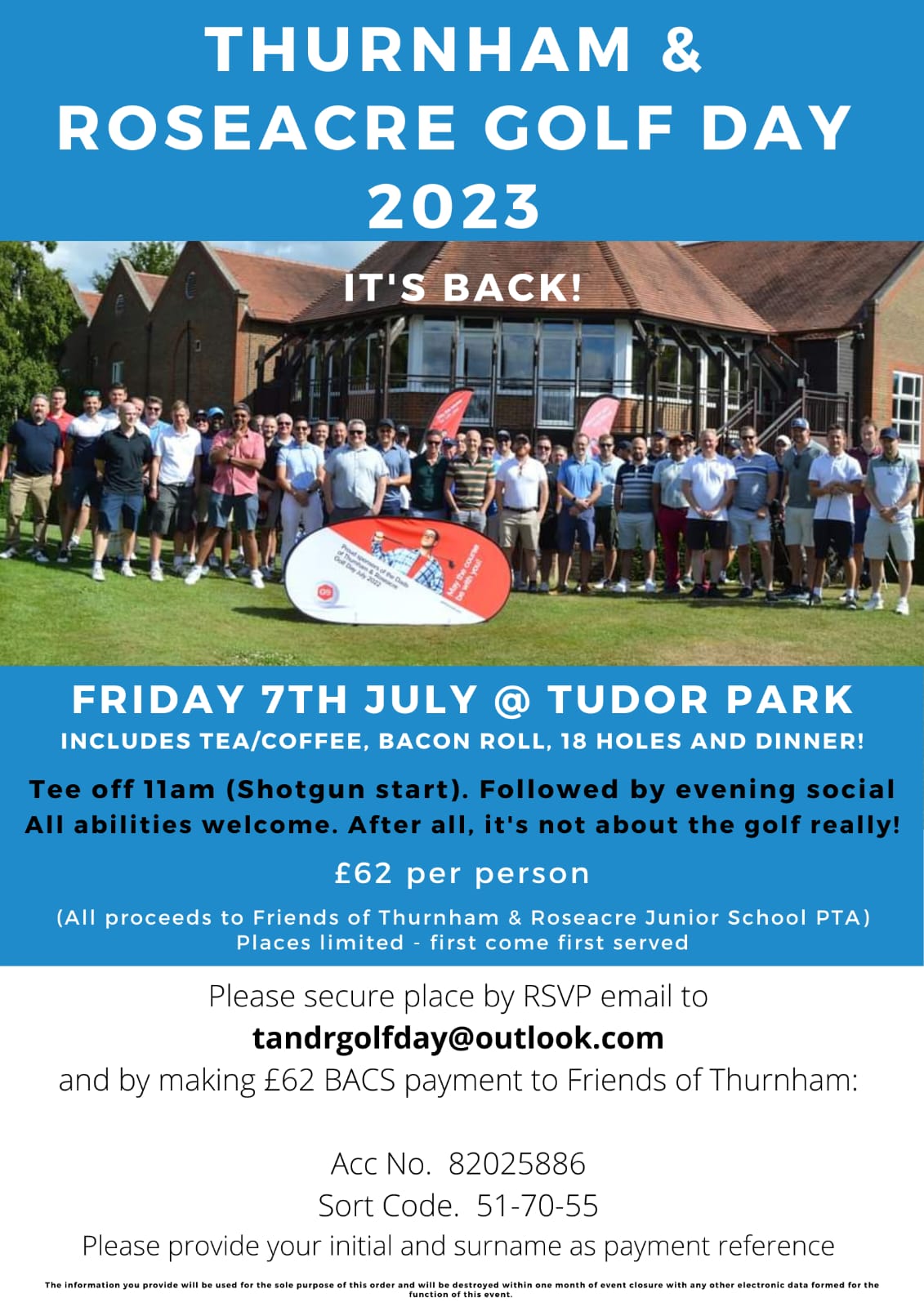 Dear Parents
Following the incredible success of the Golf Day in 2022, the event is back for another outing in Summer 2023.
The event was set up to raise funds for Friends of Thurnham and Roseacre PTA and encourage parents to interact with each other. There is no requirement to sign up with friends, the groups are randomly selected.
We aim to cater for all standards, so don't be afraid if you haven't played in a while. The pre-requisite is to have/ borrow a set of clubs, and wear something that looks like golfing attire. By the same token, if you play regularly, we hope that we will be able to provide a fantastic day for you also.
We have endeavoured to keep the price as reasonable at possible. £62 is the price that Tudor Park charge. Any fundraising achieved for the schools will be from sponsorship and the generosity of the players on the day.
There are 72 spaces available for this excellent event, which we hope can be another success in 2023.
If you have any questions, please do not hesitate to ask using the email address randrgolfday@outlook.com
Thank you
Matthew, Richard, and Vincent
A final reminder that although we are in the Summer terms we still need a coat of some sort everyday, a sun hat for when it is sunny and water bottles in school every day.